Wherever you go, and whatever you do in Graz, take a walk around the Schlossberg.
It may look like a romantic ruin now, but in the Guinness Book of World Records the Schlossberg bears the title of the strongest fortification of all time. Not even Napoleon could bring it down.
Schlossberg: Romanesque to Renaissance
The Schlossberg's history begins in 1125, when a Romanesque fortification stood on its footprint. This Gradec – Slovenian for "little castle" – became the de facto name for the city ("Graz"). In subsequent years, a variety of military structures, commercial buildings, and a chapel were added. Turks tried, and failed, to take it.
By the 16th century, the fortress was showing its age. A hotshot fortification expert named Domenico dell'Allio was hired to modernize the whole lot. Cisterns were dug, bastions were built, and the medieval palace was demolished to make room for soldiers' quarters.
Like the architects of Salzburg's Festung cable hoist, the engineers in Graz came up with innovative ways to transport building materials. In addition to using a proto-elevator (Aufzug) and pack animals, they may also have drafted Ottoman elephants into service.
For a picture of what the Schlossberg might have looked like, check out this drawing of Graz from the 17th century.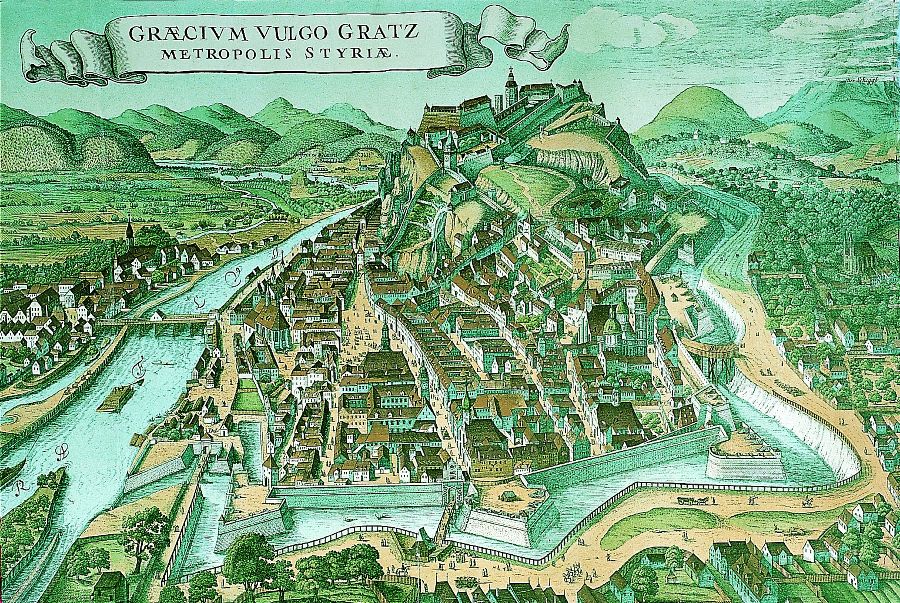 The Burg Hochosterwitz, a nearby Carithinian castle, was also rebuilt according to Domenico dell'Allio's plans.
Schlossberg: Modern History
In May of 1809, Napoleon's army rampaged into town. On the hill, Major Franz Xaver Freiherr von Hackher and a score of soldiers set up their defenses. For two months, Hackher withstood the siege of superior French forces. Stymied by Hackher's skill, Napoleon had to concede defeat and move on.
But he didn't forget the slight. When Napoleon occupied Vienna a few months later, he demanded that Graz obliterate their beloved citadel. Most of dell'Allio's work was destroyed and Graz citizens had to pay a hefty ransom to save the Clock Tower and the Bell Tower. 30 years later, the fortress had become a park strewn with vineyards.
Lion Bonus: Kids can still find Hackher, embodied in the statue of a lion, overlooking the northern end of the park.