SALEM, MASSACHUSETTS
1783-1812
This is an audio tour script written "on spec" for a local history museum. Sources are listed and linked at the bottom. Please contact me if you would like to discuss your own project.
CAPT. NICHOLS1
I was ashore receiving pepper when Mr. Ward, joint supercargo with Captain Briggs, saw one of his bags in the hands of a Malay. Being a reasonable man, he took it upon himself to take it back.
Well, before I knew what was what the native had drawn his poisoned creese on one of my men. My man sprang, the Malay after him, then there were more than a score of natives with their short swords drawn.
I couldn't very well cut them down all at once, so I waded into the fight and made it clear I was after peace. That calmed them a bit and once I'd had a talk with the thief, I sent for the Rajah to complain.
"If anything like this happens again," said I to him, "I'll fire straightway upon your town. You won't be able to build a birdcage from the scraps I leave you."
"And you know I can do it," I added as a parting shot.
He saw the merit in this argument and we had no trouble after that.
(Sea shanty in the background.)
NARRATOR2
In 1801, only four weeks after marrying his sweetheart, 23-year-old Captain George Nichols set sail on his 206 ton vessel, "The Active." He was bound for Sumatra, to the fabled spice lands of the East Indies. Over the course of his journey he would exchange his wild pepper for indigo and sugar, dye himself blue, confront pirates in the straits of Malacca, nearly drown off the shores of Manila, and amass a huge wartime profit in Rotterdam.
Twenty months after he'd kissed his new wife goodbye, he dropped anchor once more in Salem harbor.
(Sounds of a wharf – seagulls, ship rigging in the wind, conversation.)
SAILOR 13
Where are you bound for this time, Jacob?
SAILOR 2
Captain won't say – Canton, the rumor is, with a year's worth of stale beef and maggots to keep us afloat.
SAILOR 1
Well, all my luck and take care you don't end up like good old John.
SAILOR 2
What happened to John?
SAILOR 1
Came home up to his ears in pepper.
SAILOR 2
Doesn't sound so bad. Did it fetch a good price?
SAILOR 1
Long as we didn't tell them it was used to line his coffin.
NARRATOR
For two brief decades following the Revolutionary War, American mariners were emperors of the ocean. Independence had left the seas open for trade and Massachusetts merchants were quick to seize the opportunity. From the Atlantic, to the Pacific, to the Indian Ocean, the Stars and Stripes could be spied fluttering above a mainsail.
SHANTY SINGER4
Adieu sweet lovely Nancy
Ten thousand times adieu
I'm going around the ocean, love,
To seek for something new.
Come change your ring with me, dear girl,
Come change your ring with me,
That it might be a token of true love
While I am out to sea.
NARRATOR5
But it was Salem that would become the "Venice of the New World." With a war's worth of privateering experience to guide them, enterprising owners like Elias Hasket Derby transformed their ships into floating superstores. At any time, their nimble fleets might hold iron, duck and hemp from Northern Europe, wine and lead from Spain and Madeira, molasses from the West Indies and flour and tobacco from the states – all used by their captains to trade for the tea, coffee, pepper, muslin, porcelain, silk and ivory that Americans demanded.
(Scratch of pen on paper.)
DERBY6
From Elias Hasket Derby
To Captain James Magee Jr. and Mr. Thomas Perkins, Supercargo
February, 1789
Gents: The ship Astrea being ready for sea, I do advise and order you to come to sail and make the best of your way for Batavia, and on your arrival there you will dispose of such part of your cargo as you think may be the most for my interest. If the price of sugar be low, you will then take into the ship as much of the best white kind as will floor her, fifty thousand weight of coffee, fifteen thousand of saltpeter, if very low, some nutmegs, and fifty thousand weight of pepper. The sugar will save the expense of any stone ballast and it will make a floor for the teas, etc., at Canton.
NARRATOR7
Young Salem men seized their chance to make their fortunes. Generous commissions and a share of cargo space meant that even a poor boy – if he survived the voyage – could make a tidy profit. On any given day, a trader from Africa or China might find himself bartering with a handful of teenagers and a shipmaster barely in his twenties.
GRUFF YOUNG CAPTAIN8
Now, my men, we have begun a long voyage. If we get along well together we shall have a comfortable time; if we don't, we shall hay hell afloat. All you have to do is to obey your orders and do your duty like men then you will fare well enough; if you don't, you will fare hard enough, I can tell you. If we pull together you will find me a clever fellow; if we don't, you will find me a bloody rascal. That's all I've got to say. Go below the larboard watch.
NARRATOR
Though Salem crews contained their fair share of alcoholics, criminals and the insane, there was also a healthy contingent of hardworking and churchgoing locals. They saw their long voyages as a chance to get an education and advance their careers. Men like Nathaniel Bowditch, credited as the founder of modern maritime navigation, were famed for their commitment to their jobs.
(Ship noises, sailor shouts, cannon in the distance.)
CAPTAIN PRINCE9
Keep her to her course boys! We may not be able to dodge the question of a French privateer, but we have nineteen guns to answer her straight.
(Sound of footsteps down a ladder.)
Mr. Bowditch, are you ready to supply the powder to the deck?
BOWDITCH
Yes, sir.
CAPTAIN PRINCE
Mr. Bowditch, you wouldn't still be scribbling your lunar calculations before a battle, now would you?
BOWDITCH
No, sir.
CAPTAIN PRINCE
Then what might those figures be?
BOWDITCH
Just making out how much I can leave in my will.
NARRATOR
Back home, the effects of the boom could be seen everywhere in the city. Alluring scents of sandalwood, cinnamon and ginger wafted up from the harbor and through the streets. Elaborate Federal mansions designed by architects like Samuel McIntire sprung up like mushrooms. Prostitutes haunted the wharves. Captain's wives in colorful silks sipped Chinese tea from delicate porcelain cups. Each ship's hold contained a new surprise.
(Noise of a crowd.)
HAWKER10
Step lively folks, step lively, to see the greatest wonder of the animal kingdom! From the wild forests of Bengal this giant's come, over tumultuous seas, through crashing waves, brought halfway round the world by your own Captain Crowninshield. Fear not, gentle ladies, for she's tame enough to travel loose, but keep your eyes on your porter, gentlemen, she's been seen to drink 30 bottles a day. Step lively, Salem, only 25 cents to see the elephant!
(Elephant trumpeting.)
NARRATOR11-13
By 1800, Salem was at its height, surpassing even Boston in wealth and glory. "King" Derby had died one year earlier leaving a private fortune of over one million dollars to his heirs. Members of the newly founded East India Marine Society were busy collecting "natural and artificial curiosities" to amaze the folks at home. Captains were pushing into mysterious territories – braving the forbidden port of Nagasaki, bartering along the coasts of Arabia, or transporting a new governor to the Spanish-held island of Guam. Wherever there was a dollar to be made, Salem ships were there.
(Scratch of pen on paper. Wind blowing. Spanish accents.)
HASWELL14
Having to pass through dangerous straits, we went to work to make boarding nettings, and to get our arms in the best order, but had we been attacked we should have been taken with ease. The pirates are numerous in their prows and we have but eleven in number exclusive of our passengers – total passengers twenty-four and we expected but eight. Too many idlers to drink water, to my certain knowledge they would not have fought had we been attacked.
NARRATOR15-16
But even the "great country of Salem" as one Malay trader called it could not fight the tide of history. Jefferson's 1807 Embargo Act, declaring "that no ship can sail from a U.S. harbor to a foreign port" had an immediate and crippling effect. Merchants saw their profits plummet in a day.
Even worse, ships were increasing in size, which meant that Salem's harbor was not deep enough to handle the extra tonnage. When the war of 1812 exploded, reducing Salem's fleet from 200 to 57, the city appeared to be on its deathbed.
(Scratch of pen on paper.)
REVEREND BENTLEY17
Diary of the Reverend William Bentley
May 25, 1819
Our Commerce promises nothing from the East Indies and the great voyages will not be made which have given us such great prosperity in Salem. Many of our friends are content with the West Indies, South America and even a few coasting adventures. Endless reports are about the banks and failures are the alarm of the day. We are told we shall build no more ships this season and probably few houses.
NARRATOR18
Salem did not die. Voyages to Zanzibar for gum copal, to South America for rubber and to California for trade in the Gold Rush were enough to revive some of its fortunes, but it would never again rule the seas. By 1849, when Nathaniel Hawthorne was chief executive officer of the Custom House, Salem had become a sleepy backwater with grass growing up from the pavement cracks.
HAWTHORNE19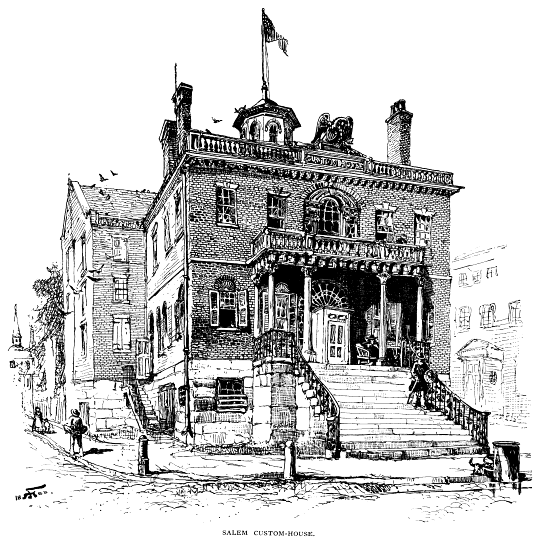 In some months of the year, however, there often chances a forenoon when affairs move onward with a livelier tread. Such occasions might remind the elderly citizen of that period, before the last war with England, when Salem was a port by itself…
(Gulls cry, rigging clanging, etc.)
On some such morning, when three or four vessels happen to have arrived at once,—usually from Africa or South America,—or to be on the verge of their departure thitherward, there is a sound of frequent feet, passing briskly up and down the granite steps.
(Sound of feet on steps.)
More frequently, however, on ascending the steps, you would discern—in the entry, if it were summer time, or in their appropriate rooms, if wintry or inclement weather—a row of venerable figures, sitting in old-fashioned chairs, which were tipped on their hind legs back against the wall. Oftentimes they were asleep, but occasionally might be heard talking together, in voices between speech and a snore, and with that lack of energy that distinguishes the occupants of almshouses… These old gentlemen—seated, like Matthew, at the receipt of custom, but not very liable to be summoned thence, like him, for apostolic errands—were Custom House officers.
SOURCES
1 Elaboration on a firsthand account from George Nichols – George Nichols, "A Salem Shipmaster and Merchant." p. 69.
2 Details on the diet of a sailor – Frank T. Bullen, "Log of a Sea-Waif." p. 67.
3 Sailor preserved in pepper – Charles Corn, "The Scents of Eden: A History of the Spice Trade." p. XIX.
4 18th Century Sea Shanty – "Adieu Sweet Lovely Nancy".
5 Salem as "Venice of the New World"– Salem Maritime National Historic Site.
6 Abridged letter from Elias H. Derby to Captain Magee – Ralph D. Paine, "The Ships and Sailors of Old Salem." p. 150.
7 Details on handsome commissions – Ralph D. Paine, "The Old Merchant Marine." Chapter 4.
8 Captain's speech from Richard Henry Dana's "Two Years Before the Mast" – Willis J. Abbot, "American Merchant Ships and Sailors." p. 25.
9 Embroidered account of a conversation between Captain Prince and Bowditch – Robert Smith, Editor, "The Friend: Volume 12." p. 106.
10 Accounts of Salem's elephant:
11 Details on Elias Hasket Derby's fleet and fortune – Robert Ephraim Peabody, "Merchant Venturers of Old Salem." p. 161.
12 Founding of the East India Society:
13 Voyages to Nagasaki and Guam  – Ralph D. Paine, "The Old Merchant Marine." Chapter 4.
14 Abridged verbatim account from William Haswell of voyage to Guam – William Haswell, "Remarks on a Voyage in 1801 to the Island of Guam." p. 196:
15 Details on the Embargo Act:
16 Increase in tonnage/War of 1812 effect – Christiane Bird, "The Sultan's Shadow: One Family's Rule at the Crossroads of East and West."
17 Diary entry of William Bentley – William Bentley, "The Diary of William Bentley, D.D., Pastor of the East Church, Salem." p. 597.
18 Details on Zanzibar, South America, Gold Rush trade:
19 Hawthorne's Custom House – Nathaniel Hawthorne, "Introduction to the Scarlet Letter."